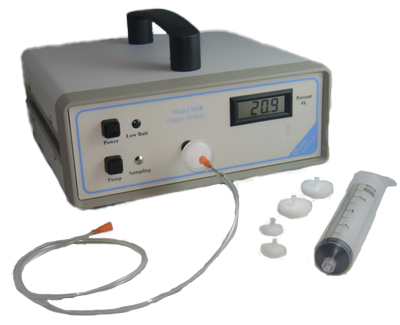 Model 905P Process O2 Analyzer
ABOUT THE FIVE YEAR O2 SENSOR
The Model 905P design incorporates a long-life, heavy duty, proprietary electrochemical, maintenance free sensor. The sensor is totally sealed, operates at room temperature and is internally compensated for slight temperature variations. Unlike other sensors, it is not dependent on a controlled flow rate for accuracy, is not heated and is not affected by high levels of CO2, hydrocarbon or other gases.
The sensor assembly is cable connected to the control circuit board. It can be used with diffusion or pumped sample draw systems. The measurement accuracy is not affected by sample flow rate.
The expected electrochemical sensor life is typically 5 years, unlike other analyzers with an electrochemical sensor that last 1-2 years.
OPTIONAL INTERNAL BATTERY
With its low power requirement, the Model 905P can be operated with an optional battery for those applications where AC power is not readily available. A totally sealed, long-life internal 12 Vdc gel battery accepts a full or partial charging cycle and will operate the unit for up to 8 hours